A COMBINED Respiratory Muscle Training (CRMT) Device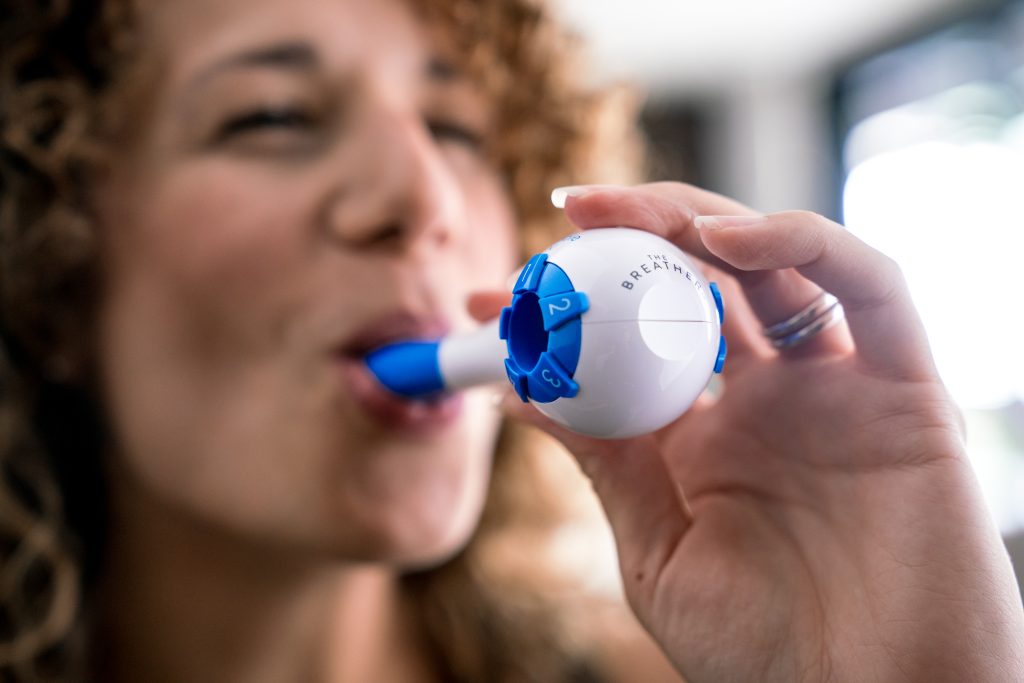 The Breather is the first drug-free, evidence-based combined inspiratory/expiratory respiratory muscle training (cRMT) device used by Dysphagia, COPD, CHF, Parkinson's, and neuromuscular disease patients, as well as children 4+ and adults interested in healthy aging.
The Breather focuses on respiratory muscle weakness (RMW) which is an often overlooked condition. Up to 100% of institutionalized elderly have RMW as well as 30-50% of CHF patients, 76% of acute heart failure patients, 50% of moderate to severe COPD patients and 69% of patients at discharge from the ICU.
Improving outcomes and completion of ADLs, reducing shortness of breath, improving posture, reducing fall risk and hospital readmission, reducing blood pressure, and clearing airways as well as improving oxygen saturation are just a few of the benefits of The Breather.
New research shows that using the Breather can effect blood pressure. A six week clinical study utilizing RMT demonstrated an improvement in blood pressure and CVD parameters, specifically a 7% reduction in systolic blood pressure (SBP), a 3% reduction in diastolic blood pressure (DBP ), and a 45% increase in artery diameter improving circulation + reducing risk of cardiovascular disease (CVD).
The Breather strengthens both inspiration and expiration by providing resistance similar to weight training at a gym. It's a workout for your lungs! Training intensities can be adjusted independently for inhale and exhale. Focusing on diaphragmatic breathing is a key to improvement in RMW.
Using the Breather Coach app (see the links below) increases compliance. Plus, the guidance and data stored in the app can be adjusted and monitored by a clinician and used for data collection to track improvement.
This is a single-patient device that can be used in most medical settings including home health as well as by individuals not working with a clinician. No prescription is necessary. Order today for your patients, or even for yourself.
Note: there are a lot of counterfeit devices on the market. Purchase from a verified re-seller like Columbia Scientific. Counterfeit devices can use non-medical grade plastic and lack of membrane that provides resistance and are not backed by research.
FREE Training is available for clinicians. Check out all the videos below for getting started with The Breather. There is also a monthly webinar for patients for training as well as a Q&A period. Contact us for more details.
Improve Speech & Swallowing Performance
Improve Oxygen Saturation
Reduce Breathlessness
Improve Peak Cough Flow
Reduce Hypertension
Reduce fall risk
Increase MIP and MEP
Improve abiltiy to complete ADLS
Help wean off mechanical ventilation
Reduce length of stay
Reduce hospital readmission
There are many studies that have been conducted on RMT on many different conditions.
Click HERE to check out our Research page to get links to many of these studies. If you need more information or need data on a specific condition, contact us, we'd be happy to help or connect you with someone who can answer your specific questions.
Training Videos and Getting Started with The Breather
Below are links to training videos and how to get started with The Breather. You can also download a training journal, training protocol, and don't forget to get the Breather Coach app on the Apple app store or at Google Play. If you are a clinician and want to set up a FREE training session, please contact us here.
How to Use The Breather – Start Here when you receive your Breather device
Diaphragmatic Breathing: How to Breathe During Training
Breather Protocol (including how to clean your Breather)
Breather Coach App – Apple App Store
Breather Coach App – Google Play Store
Benefits of starting an RMT program at your facility
Breather device pressure settings
Webinars from PN Medical – Makers of The Breather
Respiratory Muscle Weakness Episodes
Addressing Muscle Weakness First: Causes, Symptoms and Treatment
Top 10 Assessments and Treatment Tools to Address RMW and how They Relate to Reimbursement
Treatment, Documentation and Discharge Planning as it Relates to RMW
Flu, Pneumonia, and Covid-19: Utilizing RMT for Risk-Reduction, Treatment and Recovery
The Role of RMT During Covid-19: Implementation, Telehealth and Case Studies
Covid-19: Treating RMW , A Discussion with Pulmonologist, Dr. Sigfredo Aldarondo
For clinicians wanting to learn more about implementing RMT in conjunction with trachs and vents.
Learning objectives:
Identify when it may be appropriate to implement RMT with someone with a Tracheostomy or post Tracheostomy removal
Describe the benefits of utilizing RMT with weaning from mechanical ventilation
Understand how an interprofessional approach can improve functional outcomes and the role each plays in RMT with those impacted by Tracheostomy and Vent use
Discuss 3 contraindications for use of RMT with patients with mechanical ventilation and tracheostomy